Natural Facing is a manufacturer of natural stone veneer products. They have a large selection of veneers which include four different styles of stone and over 30 available colors. These veneers are what's known as sawn thin natural stone, which is simply natural stone which has been cut so that it can be applied to pre-existing structures rather than the structures being made out of stone initially.
Sawn Thin Natural Stone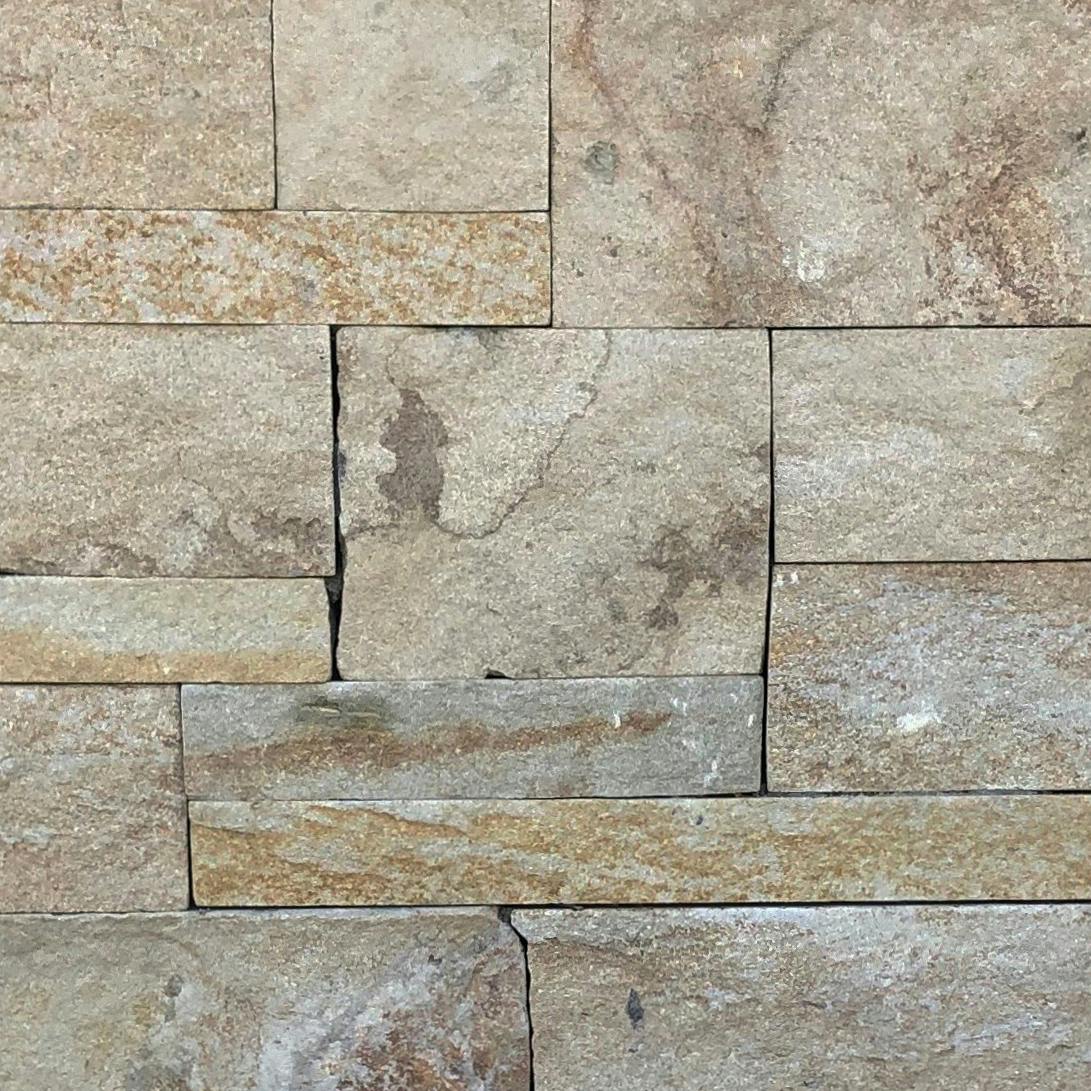 The sawn thin natural stone from Natural Facing is cut to widths between 1" and 1 ½". This is done to grant a variety of benefits to the veneer which full thickness natural stone doesn't have. These benefits come from the fact that this thin stone has a much lower weight than full thickness stone. Lower weight means it doesn't need as much support, and it can be used in areas where full thickness stone would simply be too heavy. While full thickness stone may require special footings or support ledges, sawn thin stone typically does not. It's also quicker and easier to install because of this lighter weight.
And just because sawn thin stone is lighter weight than full thickness stone doesn't mean it gives up any of the benefits that come with being stone. It still wears and weathers naturally, and is a sustainable building material just like full thickness stone. There are even corner pieces which look exactly like a full thickness cornerstone would.
But how does sawn thin natural stone compared to manufactured options? Manufactured stone veneer is generally lighter weight than natural stone, has all the benefits of natural stone, and costs less too. Well, sawn thin natural stone is priced comparably to manufactured stone veneer, and as we've already covered, it has the same benefits. When choosing between natural or manufactured stone veneer, it's really just up to personal preference.
Natural Facing Stone Styles
There are four Natural Facing stone styles to choose from, and each is available in a variety of colors. The styles are Mosaic, Roughly Rectangular, Ledgestone, and Architectural Series.
Mosaic
The Mosaic style is made up of unique block shapes which fit together to create natural-looking patterns. The color options available are Autumn Crest, Buckeye, Camden, Canary River, Crystal Creek, Delta Valley, Dogwood Canyon, Kingston, Ramone Brown, Rodgers Forge, Saratoga Springs, Wilmington, and Woodbury.
Roughly Rectangular
Roughly rectangular blocks are, as the name implies, roughly rectangular (and square) in shape. This gives the blocks a more chiseled appearance than their Mosaic counterparts. The color options available are Broadwater, Buckeye, Camino Cliffs, Chesapeake, Crystal Creek, Jefferson Reserve, Kingston Blended Ashlar, Logan Run, Pocomoke, Ramone Brown, Rock Creek, Sun Valley, and Wilmington.
Ledgestone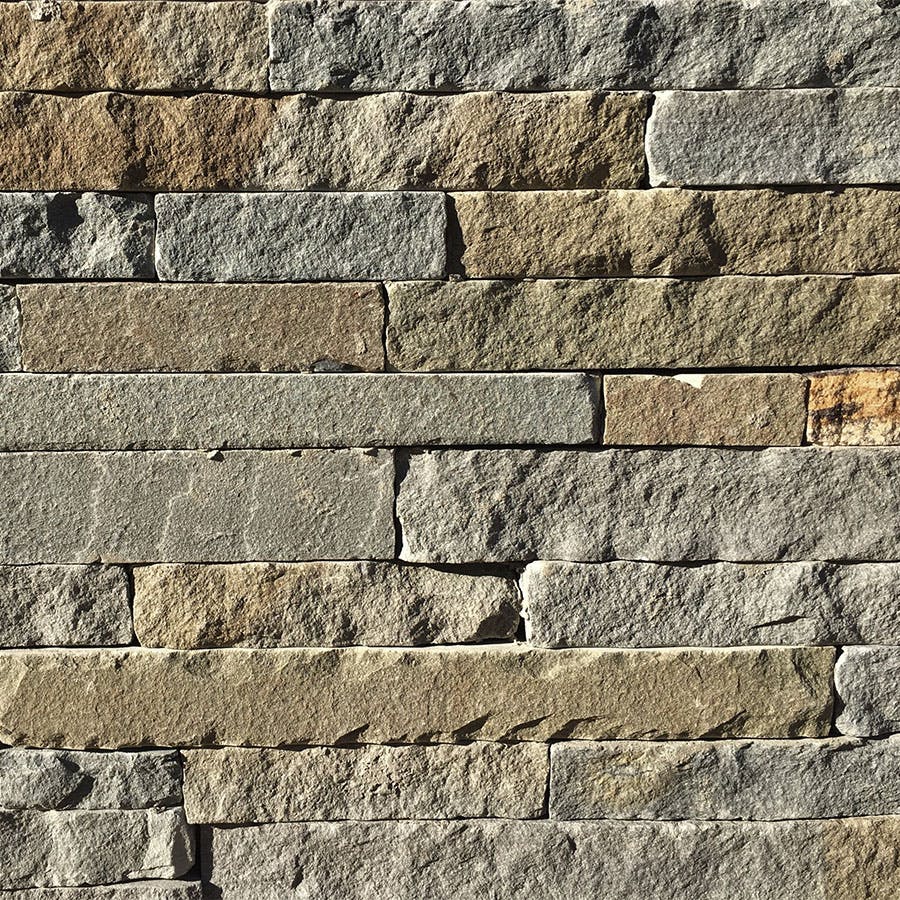 Ledgestone is also made up of rectangular blocks, but these are longer and thinner than the Roughly Rectangular options. This style is available in Baja Brown, Cedarfield, Clove Road, Colony, Crystal Creek, Heubert County, Kingston, Lake George, Ocean Blue, Pinehurst, Rodgers Forge, and Terrapin.
Architectural Series
The Architectural Series is a set of rectangular (and square) blocks which are cut to fit closer together than those of the Roughly Rectangular style. However, this style only comes in four colors, which are Birdsboro, Camino Cliffs, Chesapeake, and Smokey Ridge.
Natural Facing Stone Accessories
Natural Facing also manufactures a number of stone accessories for building projects. These include the Single and Double Light Boxes, Sills, and Cornerstone Date Plates. The Single and Double Light Boxes are paneless, stone windows measuring 6" x 6" x 1 ½" and 7" x 7" x 1 ½" respectively, with the Double Light Box including an opening which is double the width of that of the Single Light Box. Stone Sills measure 2" x 48" x 3", and come in crates of 60 Sills each. Finally, the Cornerstone Date Plate is a cornerstone engraved with the year. These come in crates of 10, so one order has enough cornerstones for multiple buildings or projects.
Conclusion
Sawn thin stone from Natural Facing has all the benefits of full thickness natural stone, but without the drawbacks associated with its weight and cost. It's also available in four different styles, with over 30 color options between them. And there are even stone accessories to pair with your Natural Facing sawn thin stone veneer.
Fizzano Brothers & Natural Facing Stone
Fizzano Brothers Concrete Products, Inc. is a distributor of Natural Facing stone products including their four styles of sawn thin natural stone and stone accessories. We also currently carry stone and brick veneer products from eight other manufacturers, so no matter what style you're looking for, we're sure to have it. Contact us today for more information about the products we carry, including those manufactured by Natural Facing.