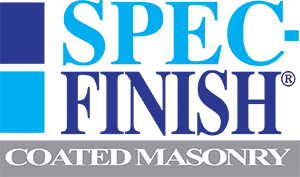 Spec-Finish is an extremely durable coated concrete masonry wall system. It provides an attractive and impermeable surface over the entire CMU wall.
The combination of extremely smooth textured block and high performance coatings results in a coated wall system that minimizes the need for application of filler layers and minimizes cost.
Spec-Finish is a great solution for interior wall finishes. Perfect for Schools, Hospitals, Animal Shelters, Veterinary Facilities, Lavatories, Laboratories, Dormitories, Arenas, Food Service Areas, Stadiums, Detention Facilities, Transportation Centers, and much, much more.
Available in typical ASTM C 90 sizes.
Spec–Finish Utilizes:

Spec-Finish® CMU by Concrete Products Group, LLC
Spec-Finish® Pre Conditioner
Spec-Finish® Coatings by Tnemec, Co. Inc.
Spec–Finish Benefits:

Spec-Finish® CMU is pre-conditioned to create a higher density and tighter finish to improve on the coating's final finish.
Provides an impermeable surface over the entire CMU wall.
Doesn't depend on typical chalky block fillers.
Is easily cleaned and maintained.
Is cost effective compared to tile.
Spec–Finish Coatings by Tnemec

Spec-Finish® coated concrete masonry wall systems feature durable, crosslinked coatings designed to provide optimum stain and chemical resistance for a variety of exposures.

Level I Standard Block Finish
Level II Pinhole free Orange Peel Block Finish
Level III Pinhole Free Smooth Block Finish
Level IV Pinhole Free, Smooth Block Finish with minimal joint appearance- fiberglass mat).