ProVia's manufactured stone veneer products are certified by the National Concrete Masonry Association (NCMA). These products have completed the NCMA's Manufactured Stone Veneer Product Certification Program, meaning they have achieved the highest benchmark in the industry. When it comes to physical properties, shear bond strength, freeze-thaw durability, and linear drying shrinkage, ProVia's manufactured stone is among the best of the best. And, it's guaranteed to hold up when used for both indoor and outdoor applications.
How It's Made
Every one of ProVia's manufactured stones is based on real stone. Molds are taken from real stones found out in the wild and retain their natural shadow lines and depth. The veneer matches both the look and feel of the original stone it was molded from. ProVia also uses only the best materials available, including high quality aggregates, Portland cement, and oxides. Less sand and no cheap fillers means the quality you expect from ProVia manufactured stones is consistent across the board.
ProVia Stone Profiles
There are 11 stone profiles available from ProVia: Chisel Cut™, Dry Stack, Edge Cut™, Fieldstone, Ledgestone, Limestone, Natural Cut™, PrecisionFit™, Ridge Cut™, River Rock, and Terra Cut™.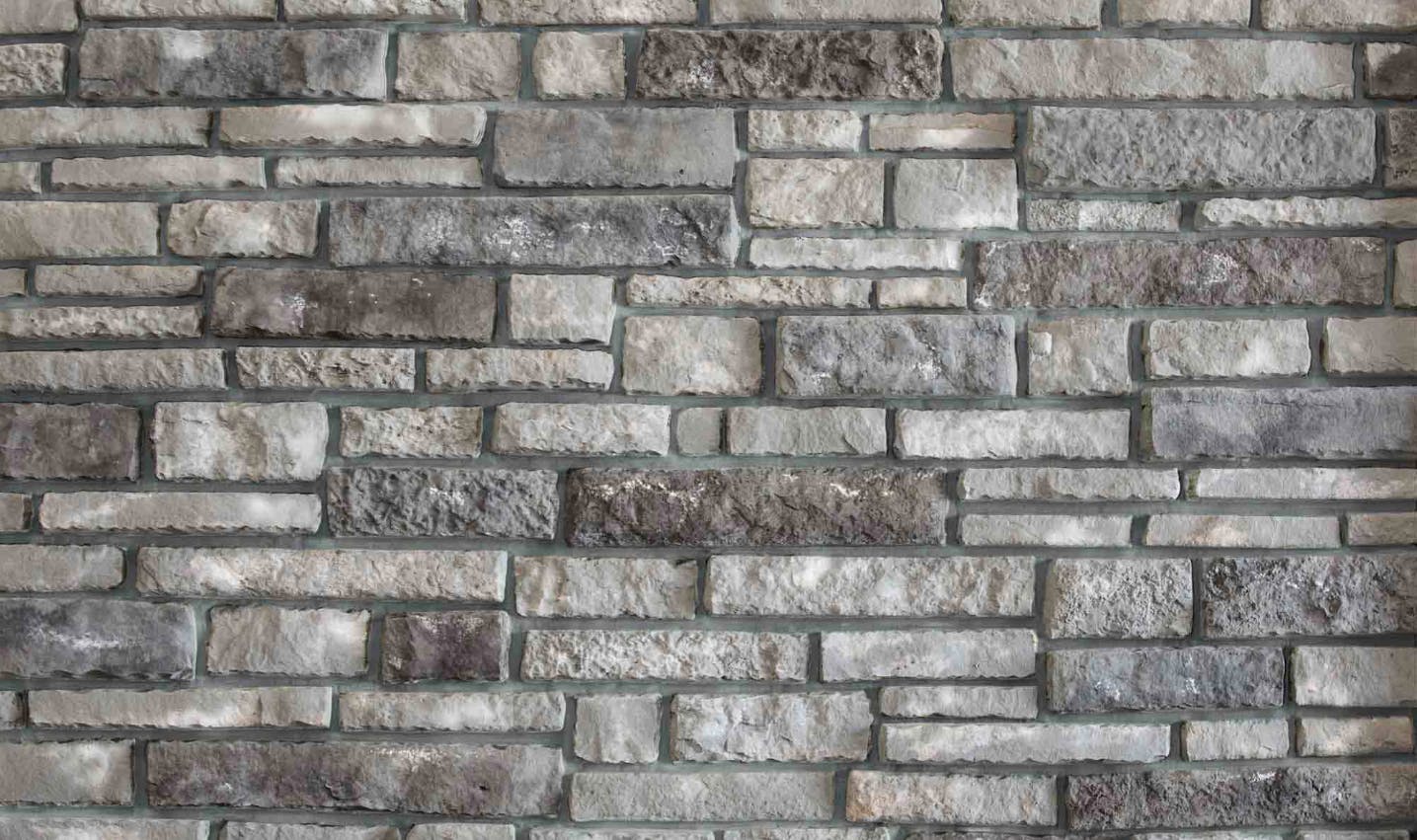 Chisel Cut™ combines natural texture and chiseled form to create a unique style which can be used with grout or dry stacked. It comes in seven colors: Brindle, Cascade, Laurelwood, Olympus, Silverlake, Sterling, and Wellington.
Dry Stack is the perfect block for all your dry stacking applications, both indoors and out. This profile comes in 10 different colors: Catawba, Colorado, Erie, Huron, Lakepointe, Ottawa, Phoenix, Seneca, Shawnee, and Whisperwood.
Edge Cut™ stones have a more standardized size and shape while still retaining their natural texture. Five colors are available: Admiral, Beech, Obsidian, Polar, and Tundra.
Fieldstone is comprised of uniquely shaped stones which fit together in perfect harmony. There are five colors available: Old Dominion, Pennsylvania, Shenandoah, Top Rock, and Strathmore.
Ledgestone can work either with grout or dry stacked. This profile is known for its rich colors, sharp edges, and rough exterior. With 12 colors to choose from, there's a Ledgestone variant for every application: Brighton, Canyon, Mystic, Osage, Oxford, Ozark, Prescot, Rushmore, Saginaw, Santee, Southbriar, and Susquehanna.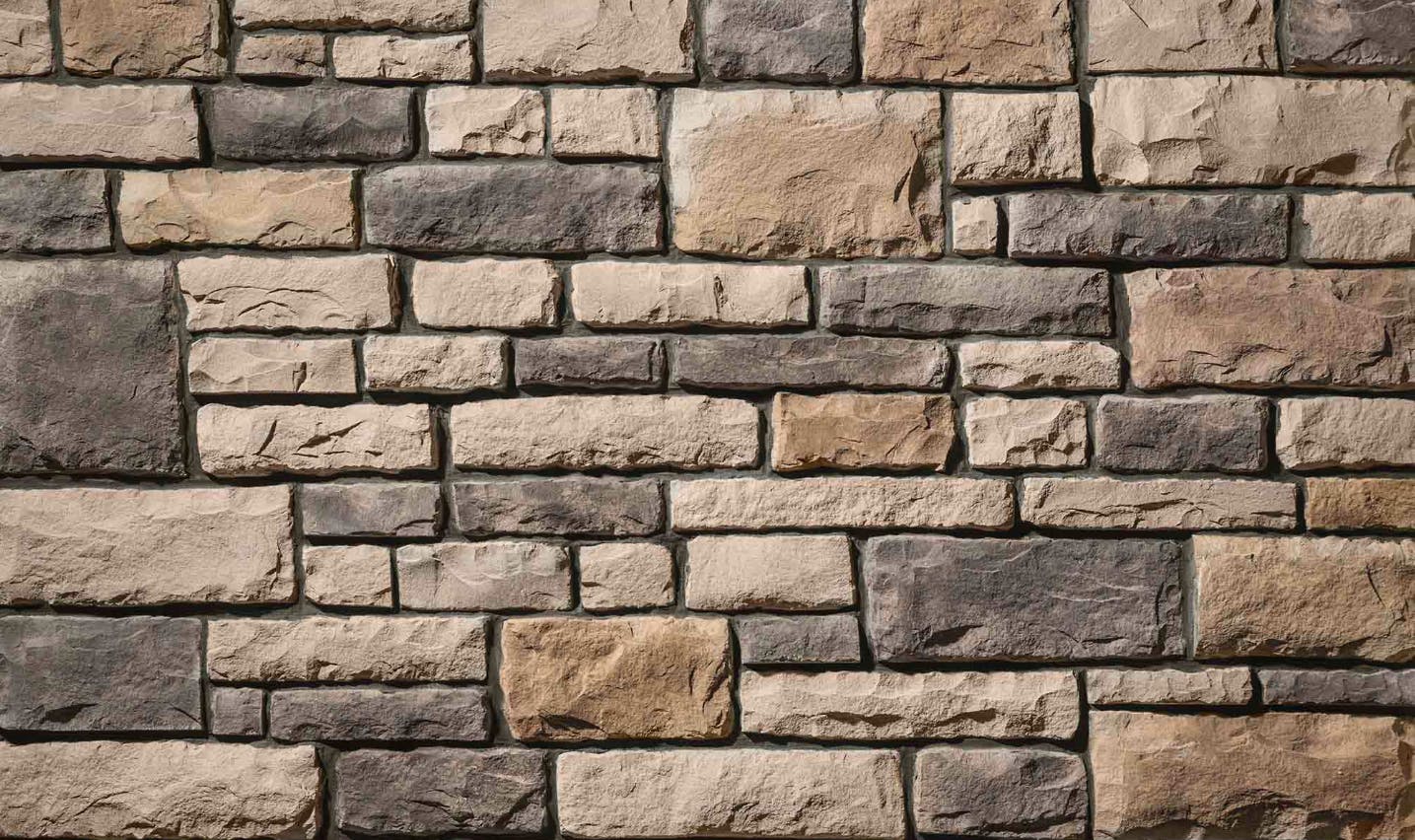 Limestone veneer comes in a variety of square and rectangular blocks, which can be mixed and matched to make unique patterns. There are nine colors available: Allegheny, Amherst, Blue Ridge, Harbor, Buckingham, Buff, Nantucket, Ohio Vintage, and Sandusky Shore.
Natural Cut™ is an original ProVia stone profile known for its large surface areas. It comes in four colors: Seaboard, Ashworth, Fernwood, and Woodbridge.
PrecisionFit™ is made of precast panels which are quickly and easily put into position. The five colors this profile is available in are: Adobe Sands, Arctic, Driftwood, Onyx, and Sage Gray.
Ridge Cut™ is a stone profile exclusive to ProVia. This style is known for its distinct shapes and varying tones. This profile comes in four colors: Castle Rock, Denali, Silverton, Yosemite.
River Rock is known for its smooth and rounded appearance which sets it apart from all the other profiles. This style is only available in two colors: Michigan and Mountain.
Terra Cut™ is the newest stone profile offered by ProVia. This stone is all about rugged textures and varying shapes and sizes. There are six colors available: Niagara, Flintridge, Frost, Russet, Slate, and Summit.
ProVia Stone Color Palettes
ProVia stone veneers are available in a wide variety of colors which fall into 10 palettes: Cavern, Copper, Desert Sands, Fossil, Glacier, Mesa, Mesquite, Shale, Spanish Moss, and Timber. Additionally, the individual colors fall into three main categories: standard colors, Enhanced colors, and Premium Enhanced colors. Enhanced colors combine artisan crafting and state of the art manufacturing with special molds and hand layering of pigments. Premium Enhanced colors come with all the qualities of Enhanced colors, with the added benefit of individually colored stones for an even more unique appearance.
Cavern is a color palette full of earthy browns and reds. The two trim colors are Brown and Buff. It also includes six standard colors: Yosemite, Shawnee, Susquehanna, Russet, Old Dominion, and Buckingham.
Copper combines browns and oranges. The two trim colors are Brown and Buff, and the three standard colors are Phoenix, Canyon, and Ashworth.
Desert Sands is a collection made of beiges and browns. It has three trim colors: Ivory, Brown, and Buff. Four standard colors are also available: Brighton, Adobe Sands, Lakepointe, and Strathmore.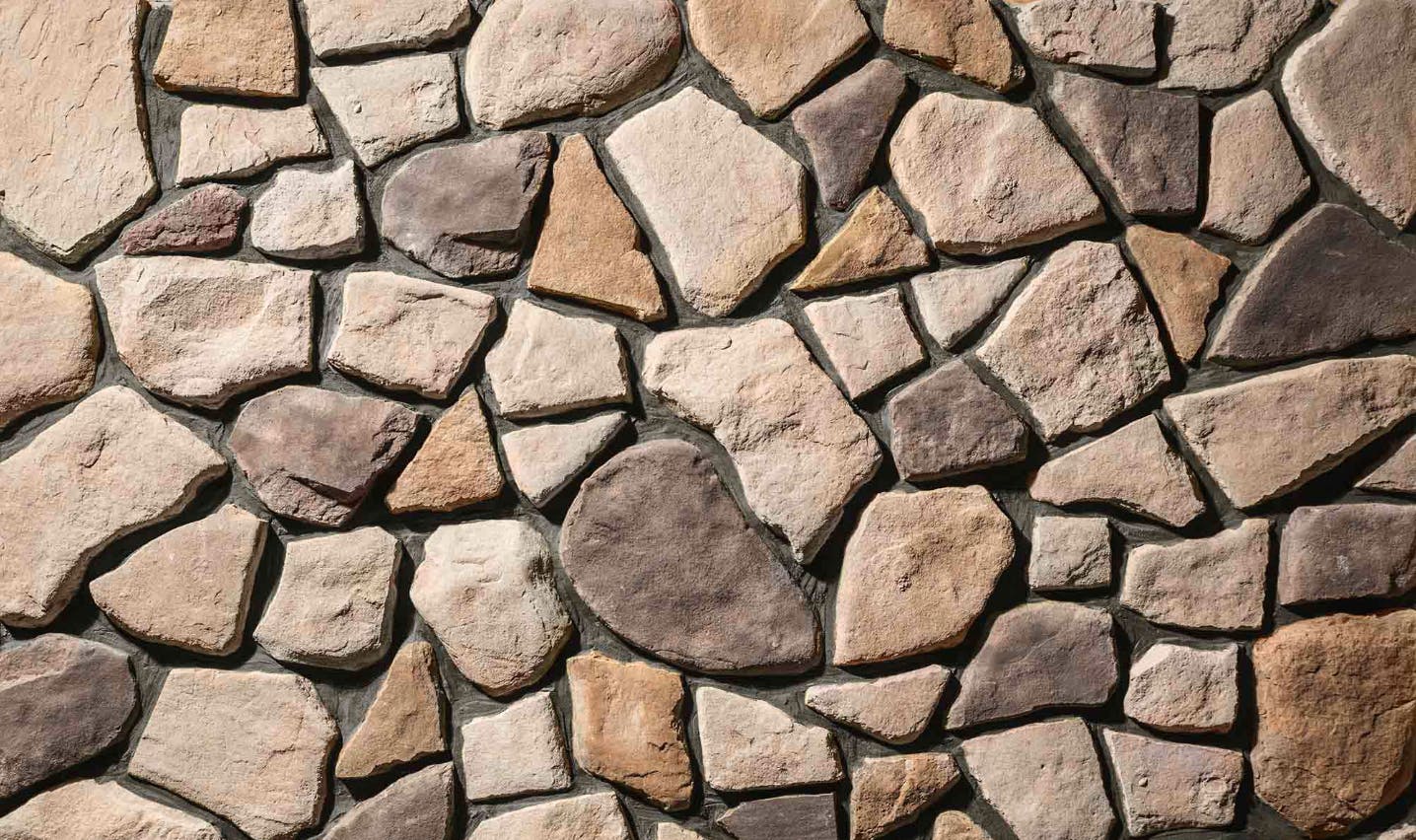 Fossil is a mixture of beiges, browns, and grays. The two trim colors are Brown and Buff, and the five standard colors are Seneca, Summit, Osage, Top Rock, and Amherst.
Glacier is mostly whites with a hint of rust. Buff and Ivory are the two trim colors. It comes in six standard colors: Beech, Ottawa, Buff, Sandusky Shore, Ohio Vintage, and Nantucket, as well as two Enhanced colors: Polar and Arctic.
Mesa is a color palette of reds, browns, and grays. The two trim colors are Brown and Buff. It's also available in 10 standard colors: Cascade, Prescot, Laurelwood, Catawba, Ozark, Santee, Allegheny, Shenandoah, Woodbridge, and Mountain.
Mesquite combines light wood tones with plenty of dark grays. The two trim colors are Natural and Buff. It also comes in five standard colors: Brindle, Huron, Saginaw, Michigan, and Pennsylvania.
Shale includes every shade of gray imaginable. While Gray is the only trim color, it comes in 12 standard colors, eight Enhanced colors, and two Premium Enhanced colors. The standard colors are: Admiral, Castle Rock, Seaboard, Wellington, Sterling, Olympus, Flintridge, Oxford, Erie, Blue Ridge, Slate, and Sage Gray. Enhanced colors include: Silverton, Tundra, Obsidian, Silverlake, Onyx, Frost, Harbor, and Mystic. Denali and Niagara are the Premium Enhanced colors.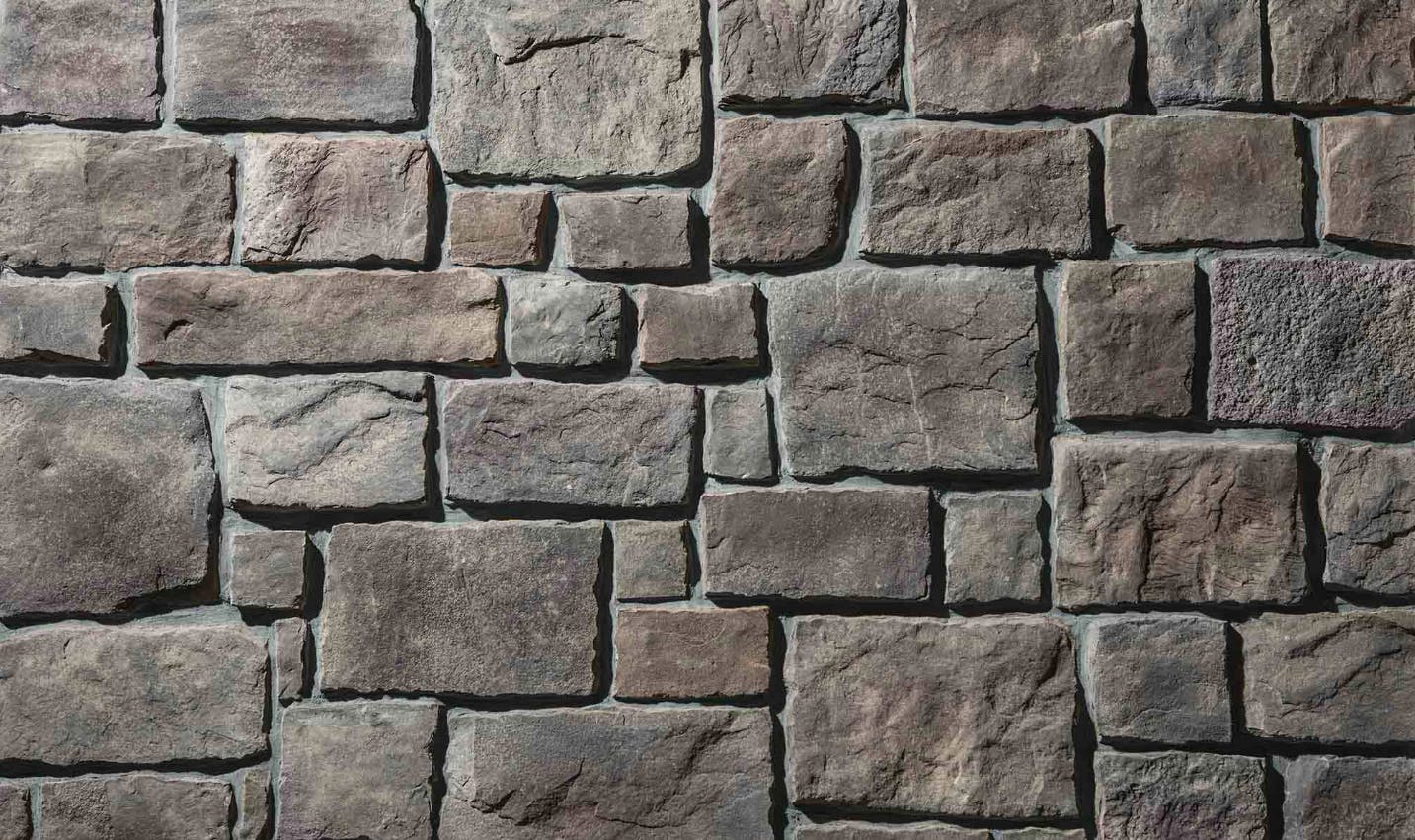 Spanish Moss is a grey palette with hints of blues, greens, and reds. Brown and Buff are the two trim colors, and the three standard colors are Southbriar, Whisperwood, and Fernwood.
Timber combines browns, reds, and grays for a rustic appearance. The two trim colors are Brown and Buff, and the three standard colors are Colorado, Driftwood, and Rushmore.
Along with the various stone color palettes to choose from, you should also consider grout colors, as well as exterior and interior lighting. The right grout color can enhance your stone color choice, and your stone of choice may have a different appearance depending on the light source.
Stone Accessories
ProVia manufactured stone also includes a wide variety of other stone accessories to combine with your veneer. These accessories include blocks and sills, column caps, hearthstones, keystones, mantels and brackets, utility trim accents, wall caps and corners, and window and door trim accents. Combine these accessories with your stone veneer to make the most of your project.
Conclusion
When considering stone veneer for your project, consider ProVia manufactured stone. All of their veneers are NCMA certified and are manufactured using high quality materials. There are also 11 stone profiles and 10 color palettes, which include nearly 70 individual color choices. And, there are a variety of stone accessories to compliment the veneer. Finally, every shipment of ProVia stone veneer comes in high quality, protective packaging so the product won't get damaged in transit.
Fizzano Brothers & ProVia Stone
For all your stone veneer needs remember Fizzano Brothers Concrete Products, Inc. We're a distributor of Eldorado Stone, Cultured Stone® By Boral®, Coronado Stone Veneer Products, StoneCraft Industries, and ProVia Stone. Contact us today for more information on stone veneer and pricing options.