A paving stone project can provide a fantastic, functional makeover for your yard that not only adds to the usable space and beauty of your home, but also can increase its value. Whether you are looking to create an attractive area to entertain outdoors, ready to redo a driveway that is filled with cracks and discoloration, or interested in a way to reduce outdoor maintenance time, then paving stones are your answer.
1. Paving Stone Projects Can Increase the Value of Your Home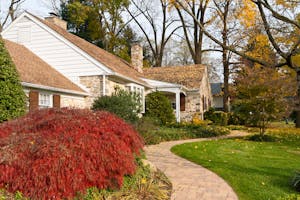 Landscaping and hardscaping are excellent ways to efficiently increase the value of your home, and some real estate experts estimate that they typically result in a 100% or greater return on investment.
A paving stone project is one way of hardscaping that can be both beautiful and functional for your outdoor space. Remember that prospective buyers will see the outside of your home first, and what better way to make an excellent first impression than by an attractive paver walkway, entryway, or driveway.
2. Pavers Add Usable Space
Pavers can be used for patios, walkways, swimming pool decks, and are even strong enough to use for driveways. They create fantastic, practical, low-maintenance outdoor living spaces for entertaining or just relaxing. Paving stones are an excellent foundation for you to create an outdoor kitchen, grilling area, or enclosed patio.
3. Paving Stones Are Practical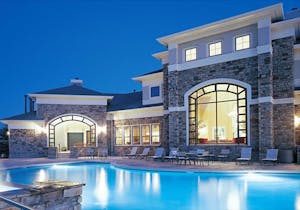 When used for walkways and patios, they can eliminate the need to walk on wet ground and can reduce the amount of debris that your pets (and children) track inside the home. Not only do they look fantastic around a swimming pool, but they are naturally non-skid and non-slip – which is an added bonus for walkways and driveways, too. In fact, paving stones can be used to make driveways that are both attractive and long-lasting.
4. Pavers Are Durable
Paving stones are designed with an interlocking system that helps them withstand conditions that would cause concrete or cement surfaces to quickly crack. This interlocking system allows the pavers to flex as the ground beneath them flexes, too – a quality that concrete does not have.
This inherent flexibility is one of the main reasons that pavers are being used more and more for driveways. In fact, a driveway constructed with paving stones can outlast a concrete driveway by 10 or more years. An added bonus is that it takes about 2.5 times as much force to crack a paver as it does to crack a concrete pad.
5. Pavers Are Easy to Install
Modern paving stones are very easy to install. Pavers securely interlock with each other, which means there is no need for mortar. Unlike concrete, there is no cure time involved – surfaces made from pavers can be used almost immediately.
Another plus in favor of a paving stone project is that pavers make it possible for you to update your landscaping in stages. For example, you can start with a patio this year and add paved walkways next year.
6. Paving Stones Are Easy to Repair and Maintain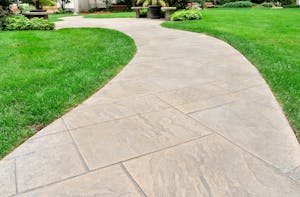 If your concrete walkway or patio cracks, trying to repair that crack can be a major undertaking. In the event that a paving stone cracks or becomes discolored, or someone drops something heavy on one and it chips, that paving stone can be pulled (remember that mortar is not needed) and replaced very easily. Unlike concrete, surfaces comprised of paver stones never need to be resurfaced to retain their appearance. Regular sweeping and rinsing off with a hose are about all that is needed.
7. Pavers Reduce Maintenance
Not only are paving stones low maintenance, but they can reduce the maintenance your yard requires by replacing grassy areas needing regular watering (which can cause water bills to skyrocket during the summer), mowing, fertilizing, and weeding. Pavers allow you to create a gorgeous, low-maintenance yard.
Sometimes homeowners face plumbing issues that require patios or driveways to be partially broken up in order to access key pipes that run beneath them. With pavers, only the paving stones above the problem area need to be removed, and they can be easily replaced when the job is through. In this regard paving stones can also make home repairs much easier.
8. Paving Stones Are Attractive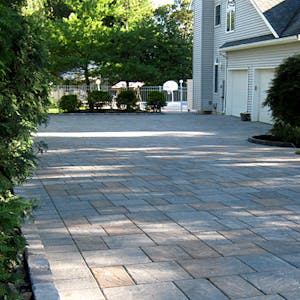 There is a wide variety of paving stones available in terms of color, texture, and shape. They can be arranged in patterns ranging from simple or complex, and selected in a shade that complements your home. Multiple colors and styles can be combined to create a striking appearance.
In addition, accent walls around gardens and other decor can be built using paving stones. Use a sealer when needed to prevent grass and weeds from growing between the stones.
9. Paver Stone Projects Are Economical
Pavers typically cost between $6 to $8 per square foot. This is a tad more expensive than concrete, but they will last much longer and require far less maintenance, making them the economical choice over the long run.
Don't Forget Porcelain Paver Stones!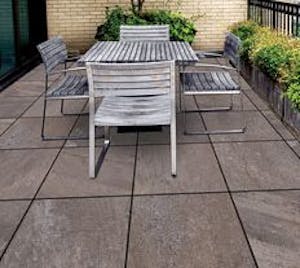 If you are looking for the ultimate in beauty and durability, then be sure to consider porcelain pavers. The colors will not fade, they never need sealing, and are a green option (made from 42% recycled materials) for those who are environmentally conscious. Check out our beautiful line of Viewpaver Outdoor Porcelain Pavers and consider them as a another option for your upcoming project.
Trust Philadelphia's Best Local Paving Stone Supplier
Fizzano Brothers Concrete Products can bring your paving stone dream project to reality! We carry a wide variety of paving stone collections, including porcelain pavers, and can provide you with everything you need to complete your prefect paving stone project. You can depend on us for consistency, quality, and outstanding customer service. Call us today!