Your swimming pool is a hub of activity for family and friends during the warmer months, when barbeques, holiday parties, and lazy days rule. Whether you're planning to install a brand-new pool this season or want to update an aging look, your pool deck pavers should be chosen based on beauty, functionality, and budget. There is a wide array of options that will enhance everyone's enjoyment of the space, many of which can be installed in a matter of a few weeks, in plenty of time for the spring.
Important Features of Your Pool Deck Pavers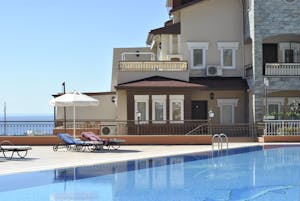 Poolside spaces, patios and walkways are functional elements of your backyard that create areas for lounging and eating, beautify the landscape, and join different sections of the yard to one another. Of course the look, color, and style of your pavers are crucial to selecting the perfect product for your outdoor spaces. However, there are other factors to keep in mind when choosing your pool deck pavers:
Safety: Choose a slip resistant material, especially for the surface immediately surrounding the pool. A material that resists the growth of algae, mold, and mildew is important due to the constant exposure it will receive to water.
Comfort: Remember that you will want people to be comfortable walking barefoot around the pool and on the deck or patio. A material that reflects heat away from the surface and is smooth and even rather than bumpy or rough is important for everyone's enjoyment of the space. Wood decks degrade and splinter; while wood used to be common decking material, there are many updated options that are both more durable and easier to care for.
Style: Your pool deck pavers should blend well with the style of your home and any landscaping elements that are already in place. Collect photos from Houzz or Pinterest and other websites on the internet that inspire you.
Budget: Have an idea of what you want to spend on your pool deck project. Remember what features are most important to you. When you have a style in mind, your retailer will be able to recommend a range of products that fall within your price points.
Durability: The strength of your pool deck pavers is important for longevity. Consider materials that are resistant to staining, chemicals, and frost. Abrasion resistance and thermal shock resistance will also keep your decking looking new and lasting longer.
Porcelain Pool Deck Paver Options from Fizzano
Porcelain pavers from our Viewpaver Outdoor Porcelain Collection are a beautiful and durable choice for your pool deck pavers. They are skid resistant, stain resistant, and never need sealing. Not only are they perfect for pool decks, but they are the obvious choice for entryways, patios, steps, walkways, driveways, and even roof tops. Our porcelain pavers come in a multitude of styles and colors, including: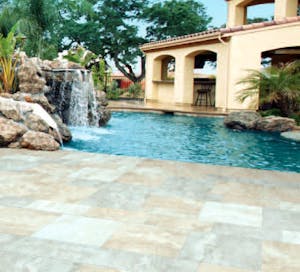 Artesian Collection: This is a classic choice for your pool pool deck pavers and includes three colors – Caledonia Light, Summit Grey, and Yellowstone Cavern. It's durable, cool underfoot, and requires little maintenance – a gorgeous look that allows your pool to be the star of the backyard.
Quartz Collection: A stylish collection that matches the natural look of quartz and is available in Grey and Silver. These pavers come with a precision rectified edge and are available in three sizes. Porcelain pavers are long lasting and easy to replace if a paver should chip or crack. These quartz-style pavers are a popular choice for their beauty and durability and are an excellent material to use directly alongside your pool, patio, and walkways.
Travertine Collection: The Travertine collection comes in two colors – Ivory and Navona. These porcelain pavers also come with a precision rectified edge in three sizes, allowing for creative patterning with modular designs.
Make Fizzano Brothers Your Source for Pool Deck Pavers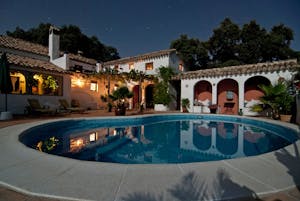 Fizzano Brothers is your one-stop shop for everything from planning, designing, and executing the swimming pool of your dreams. With the leading hardscaping experts in the business, we'll assess your property, understand your vision, and install your new pool deck pavers, patio, walkways and more so that they will last for decades to come. We provide you with the best possible solution for your needs and your budget.
When you work with Fizzano Brothers, you start off with the industry's finest selection of materials. Our customer service team understands every product that we carry and provides individualized advice that isn't available from big-box retailers. We save you time and money by helping you plan the right outdoor space for your needs.
Call or visit Fizzano Brothers Concrete today! We're ready to help you take your summer enjoyment to the next level!