Gathering around the fire pit in the backyard is a true staple of summer parties and get-togethers. If you're thinking of adding a backyard fire pit to your outdoor oasis, there are a few different courses of action you may take. This guide will help you understand your options for adding this addition as well as a step by step guide for creating one on your own. A DIY fire pit is simpler than you may think, especially with the right materials.
Backyard Fire Pit Options
As previously mentioned, you may choose whichever option works best for your budget and schedule.
Landscaper
Hiring a landscaper is an easy option that takes the work off your shoulders, however, it's the costliest option. A landscaper will work with you to understand your vision for the firepit as well as take care of any fire code research, supply purchasing, and of course the construction. This is the best option for high budgets and no time to tackle a DIY project.
Store-Bought Kits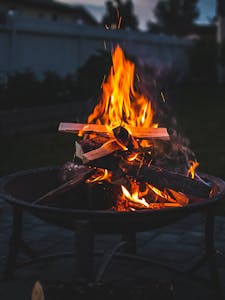 A cheaper option is purchasing a kit from a hardware store and assembling it yourself. Depending on the kit, these can vary in price, but cost much less than employing a landscaper. A downside to using a store-bought kit is the lack of customization. These kits come prepackaged and allow for little personalization, making it difficult to find one that truly fits your vision and personal style. This option works for lower budgets, little desire for customization, and quick turnaround times since the materials are all prepared for you.
Concrete Supplier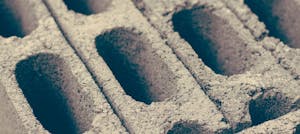 Purchasing your own supplies from a concrete supplier will allow you to fully customize the look of your fire pit as well as cut down on costs. Working with a trusted concrete supplier will also allow you to ask questions and clarify any concerns you have about the project with reputable professionals. If you're looking to cut costs, create a customized fire pit, and have a knowledgeable guide, working with a concrete supplier is the best option for you.
First Steps of Building a DIY Backyard Fire Pit
If you'd like to create your own fire pit from scratch, there are a few steps you need to take in order to get the project started safely.
Consult with your local officials before you begin any part of your project. You need to see how far the fire pit must be from your house, if you are able to dig in your backyard, and if you need to have a site inspection done to ensure total safety. This step is for your protection as well as the protection of your community.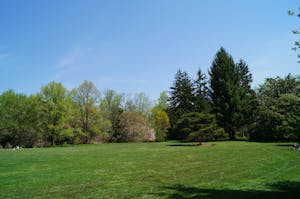 Once you understand the location requirements for your fire pit, you can choose a location in your backyard that meets those specifications. Choose a spot that you think looks nice and has enough space to add seating around it.
Lastly, you need to purchase supplies. Working with a concrete supplier, you'll be able to choose from a variety of high-quality products that fit your desired look. Be sure you have all the required materials as well as instructions, then you're ready to begin.
How to Build a DIY Backyard Fire Pit
Follow these simple steps to creating your own backyard fire pit. Consult our online guide for visuals as well.
Mark the circle—First mark the location of your fire pit. Typically, fire pits are about 5 ft wide give or take. You can mark the circle by digging slightly around the diameter or spraying the grass with paint.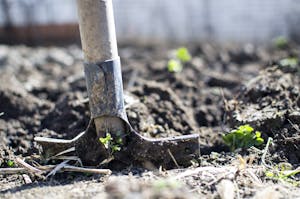 Shovel and tamp—With the circle marked, you can begin to shovel out the dirt and grass from the circle. Once shoveled out, tamp down the dirt to make it flat and level. Use a level in order to ensure your surface is smooth and balanced.
Gravel rock base—Create the base for your fire pit with a hefty layer of gravel rocks on top of the tamped down dirt. Be sure the rock is evenly distributed.
Add blocks—Arrange the blocks around the pit, making sure they lay level and are completely stable. Add decorative rock if you desire as well in order to add an extra finishing touch.
Design space—Now it's time to design your space with seating and any other décor you might desire. Make the space truly your own and get creative!
Stay safe—Remember that safety is your number one priority when maintaining a fire pit. Be sure to not wear flammable clothing around the pit, keep children a safe distance from the flames, and never use fluids to accelerate the fire.
Create a Backyard Fire Pit with Fizzano Brothers
When you decide to take on this project, Fizzano Brothers will be here to help. We provide a variety of high-quality concrete products that will ensure your fire pit meets your standards and stands the test of time. In addition to our top-notch materials, we'll provide advice and guidance in order to help you achieve your vision with fantastic customer service. Contact Fizzano Brothers today and get started on your new backyard endeavor!